Just reboot the L5 with Bluetooth enabled on Settings and HKS.
I suspect neither - but instead a firmware issue with the WiFi card. Take with grain of salt.
me too in the same situation
here is Purisms response via email when i asked them about this issue
We have a possible solution, all you need to do is to run these commands
(one by one) in terminal on the Librem 5 or via SSH:
first command:
wget
https://source.puri.sm/angus.ainslie/firmware-rs9116-nonfree/-/raw/debian/master/Firmware/RS9116_NLINK_WLAN_BT_IMAGE.rps
second command:
sudo mv RS9116_NLINK_WLAN_BT_IMAGE.rps /lib/firmware
reboot the phone.
Let us know if that helped. If yes, you can later safely delete this
firmware with this command:
sudo rm /lib/firmware/RS9116_NLINK_WLAN_BT_IMAGE.rps
Probably the best is to just copy/paste these commands so that you don't
make any mistake.
Kind regards,
Note that this will not work properly if /lib/firmware does not already exist as a directory (something that you should check first). I don't know whether you can feed that back to support!
Alternative, safe, command: Bluetooth not found but service runs no default controller
In any case just sudo mkdir -p /lib/firmware before either sudo mv ... command.
Using Angus's firmware worked for me on the L5USA (Byzantium). I can now use both Bluetooth and WiFi at the same time.
Anyone else having issues with the L5 connecting to some BT device but not others? In my attempts, I have connected it successfully to my Bose BT headset, my Mad Catz S.T.R.I.K.E gaming keyboard/mouse, and my Conambo BT ear piece…but fail to connect to the BT system in my vehicle and other BT systems I have.
The L5 BT manager see's the BT items that It cant connect to, it just cant make a connection. Is there a way to check (log type) to see why the L5 is failing to connect?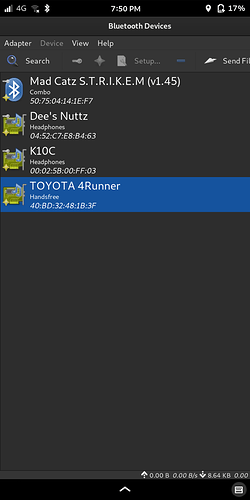 journalctl -u bluetooth might have something useful, or at least get you started.
hi guru, also for me. Received the L5 some days ago. Wifi is working, bluetooth same message like your one.
Check the post marked as solution further up, mine started working after doing that.
May depend on Bluetooth profile i.e. if a device wants to be a straight audio sink or source, or a keyboard or a mouse, it should work - but if a device wants to use Headset Profile (HSP) and Hands-Free Profile (HFP) that may not be supported yet.
Refer: https://source.puri.sm/Librem5/community-wiki/-/wikis/Frequently-Asked-Questions#24-is-bluetooth-50-supported-what-bluetooth-profiles-are-supported
My Bluetooth combined keyboard and pointing device worked. My Bluetooth speakers worked.
If you have a mainstream laptop with Bluetooth hardware and the laptop is running Linux then the test would be whether any random Bluetooth device works with the laptop. That tests the overall level of maturity of support for that Bluetooth device in the Linux ecosystem.
That's because Bluetooth LE is disabled with the current firmware. My miband 4 stopped working by updating the firmware
What do you mean with HKS?
HKS = Hardware Kill-Switch (the physical toggles on the side of the phone; one of them controls Wi-Fi and Bluetooth.)

arhg…anyway it doesn't work. I have all the 3 switche in on position. And in the setting it doesn't allow me to change the icon to 'on' also becasue shows 'No Bluetooth found'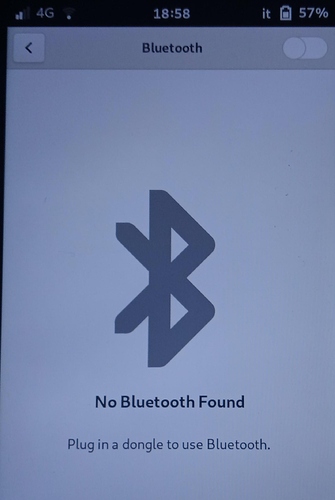 Take same screenshot BUT now with all HKS off? I need to see if Phosh it detecting h.k.s on off.
So the WLAN(wifi) it working? just the WPAN(bt) not?