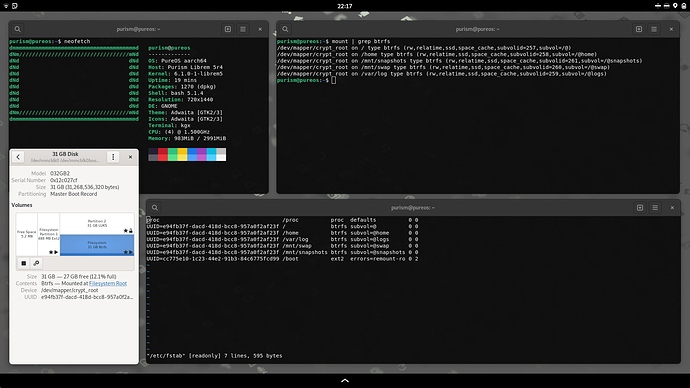 Image: Screenshot from Librem 5 running from a NexDock. Open windows are Gnome Disks, neofetch, vim /etc/fstab, and mount | grep btrfs.
So, I am prone to breaking things and wanted another option to rollback to a working filesystem in addition to reflashing and Jumpdrive. btrfs allows easy creation and manipulation of snapshots of the root filesystem and adds some nice features like transparent file compression and SSD awareness and optimizations.
It was a valuable journey figuring things out as initially I thought I would have to wrestle with initramfs–which I've never had to manipulate before this point–but it turned out not needing much manipulation. btrfs does have some overhead compared to ext4, especially if you're using compression as you are trading some CPU processing for reduced disk use and potentially reduced writes in the future, but I foresee having snapshots alone will save me some headaches.
What you need
Jumpdrive
A running system with btrfs-progs that support --uuid copy in btrfs-convert (I used an Ubuntu 22.04 Live USB)
General steps
Back up your device.

Install btrfs-progs on the Librem 5: sudo apt install btrfs-progs.

Add btrfs to /etc/initramfs-tools/modules.

Update the initial RAM disk: sudo update-initramfs -u.

Restart the phone, load Jumpdrive, and plug into system with btrfs-progs available and a terminal open.

(If your eMMC is the LUKS variant) Unlock the root partition: sudo cryptsetup luksOpen /dev/$LIBREM5_PARTITION librem5.

Check the root partition for errors: sudo e2fsck -fvy /dev/mapper/librem5. (Use /dev/$LIBREM5_PARTITION if you're not running the LUKS variant)

Convert the root partition: sudo btrfs-convert --uuid copy /dev/mapper/librem5. (Use /dev/$LIBREM5_PARTITION if you're not running the LUKS variant)

Mount the root partition. I mounted it to /mnt/librem5.

Create a root subvolume using sudo btrfs subvolume create /mnt/librem5/$NAME (I named the root subvolume @) and mv everything from the root of the partition into it.

Find the subvolid of @ (sudo btrfs subvolume list -p /mnt/librem5/) and set @ to be the default mount: sudo btrfs subvolume set-default $SUBVOLID /mnt/librem5/.

(Optional) Create other subvolumes based on your needs. For example, I additionally made @home for /home and @logs for /var/log. As these will be mounted to their respective directories, make sure to move any files into those subvolumes after creation.

Delete the original filesystem data: sudo btrfs subvolume delete /mnt/librem5/ext2_saved.

(Optional) Enable zstd compression for @ and other subvolumes, as desired, and compress existing files:
sudo chattr +c /mnt/librem5/@ &&
sudo btrfs property set /mnt/librem5/@ compression zstd &&
sudo btrfs filesystem defragment -r -v -czstd /mnt/librem5/@

Make the file data more contiguous: sudo btrfs filesystem defrag -v -r -f -t 32M /mnt/librem5/.

Re-balance the filesystem: sudo btrfs balance start /mnt/librem5/

Edit /etc/fstab to properly mount your subvolumes. Note that $UUID will be the same as what's already in there for your root partition since we used --uuid copy during conversion. It should look something like this:
proc /proc proc defaults 0 0
UUID=$UUID / btrfs subvol=@ 0 0
UUID=$UUID /home btrfs subvol=@home 0 0
UUID=$UUID /var/log btrfs subvol=@logs 0 0
UUID=... /boot ext2 errors=remount-ro 0 2

Clean up and unmount the partitions. Closing LUKS is only needed if you're using the LUKS variant:
sudo sync &&
sudo umount /mnt/librem5 &&
sudo cryptsetup luksClose librem5

Not 100% sure update-initramfs depends on /etc/fstab being correct
When I did this originally, I did step 17 after step 3 because I don't know how initramfs actually works. But after examining the contents of the initial RAM disk using unmkinitramfs and seeing no reference to the new fstab and no need to change any UUIDs since we didn't change any, I think the order that I've written this works.
You are welcome to do what I did and edit fstab before updating the initial RAM disk!