Hi guys! I'm new here, so if this is not an appropriate topic for a post just point me in the right direction.
I just started a Librem One subscription, and am trying to set up my email on my phone. As a test I've been sending emails to my gmail account, and it keeps complaining that my messages are "not encrypted":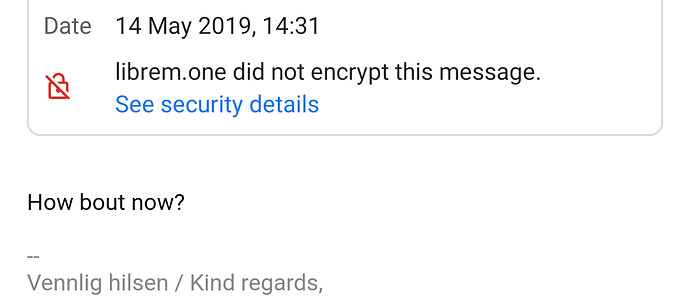 A lot of other mails in my inbox are marked with the same message, but some, like insurance and banking, are marked with "Standard encryption (TLS)". Is that not something I can / would want to enable?
I've gone through the steps of getting a key and preparing to use PGP to encrypt my mail, but this seems to be referring to something else. I thought I knew a fair bit at least about this sort of thing, but I've quickly found all this to be quite overwhelming.