How much are you betting?


You up for wagering your place in the queue?

I'm here for the show

AFAIK, you're in the "better" queue

Order date: October 6th 2017
Address confirmation email: September 20th 2021 (I replied to this on the 21st after ordering some more stuff)
Tracking email: September 30th 2021
Arrival date: Soooooooon
order date: October 6, 2017
address/modem confirmation mail: September 20, 2021
tracking number mail: September 30, 2021
arrival date: current estimation October 5, 2021
Order Date: August 2nd, 2019
Choose Your Preferred Batch e-mail: September 18th, 2019 (received e-mail).
Choose Your Preferred Batch e-mail reply: September 20th, 2019 (sent reply e-mail).
Address Confirmation e-mail: Unknown/Not Received
Tracking e-mail: Unknown/Not Received
Who has gotten their September update email?
Im hoping that some type of update email comes out today even if its not the one we are expecting. Letting the time frame go by without a followup for not meeting the deadline is not an acceptable way to due business IMO. 9 hrs until the 1st of Oct for my time zone.
I'm waiting as well.
Because of the upcoming deadline I have mailed support and asked if something went wrong.
As for now, deadly silence…
I haven't, some people have though…
I did and my phone will arrive on monday or the day after. I will update it once it's arrived.
Anyone notice that on Availability Chart, the Librem 5 now shows a lead time of 52 week? (90 days for the USA edition.) That means, for some at least, close to another whole year of waiting.
I ordered my phone in Oct 2017…one more year of waiting = 5 yrs for obtaining some really outdated hardware (even if its supposed to be more secure) is it worth waiting that long?
Ive crowd funded a few campaigns over the last 10 yrs and this by far the most disappointing.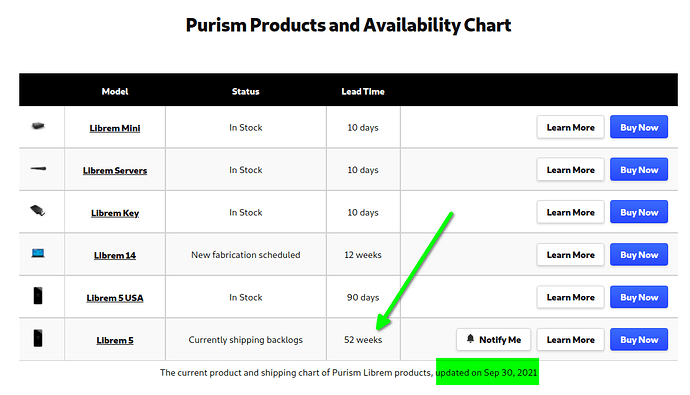 Let's open the bets: will Purism publish an official statement in a day, a week, a month?
Only 52 weeks? I've been waiting 4 years, i.e. 208 weeks.
That chart is supposed to represent the lead time for items ordered today.
If you ordered in Oct 2017, it looks like they are moving through the October orders now. I'm seeing people stating here they got their L-5 from October 5, 6, one was for the 9th.
So I don't think you will be waiting much longer

Me… I ordered in 3/2019. It might be 6 months before I get mine. I'm just glad those who ordered in October 2017 are now getting theirs. You've been patient enough!

Isn't that lead time only for new orders?