I tried to gather some data to make raw estimates. It ends in October 2018 where Purism removed the sales numbers from their new shop.
I calculated the number of Librem 5 (cumulative) sold by order date from the wayback machine.
EDITED: I (@spaetz) will try to keep the graphical overview somewhat up to date (last update: Aug 31) and sync it with the table below, keep in mind that I do some liberal and manual data sanitizing to e.g. interpolate missing data by averages and delete some outliers.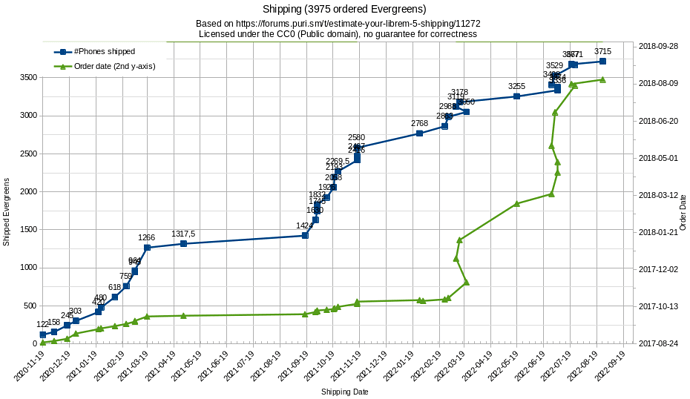 (you'll see a bit of zig-zag in the end, implying that the strict monotonic relationship between order date and shipping date has somewhat been infringed recently.
I tried to make a graph of the waiting time (unfortunately, I cannot upload the LibreOffice Calc document that I used):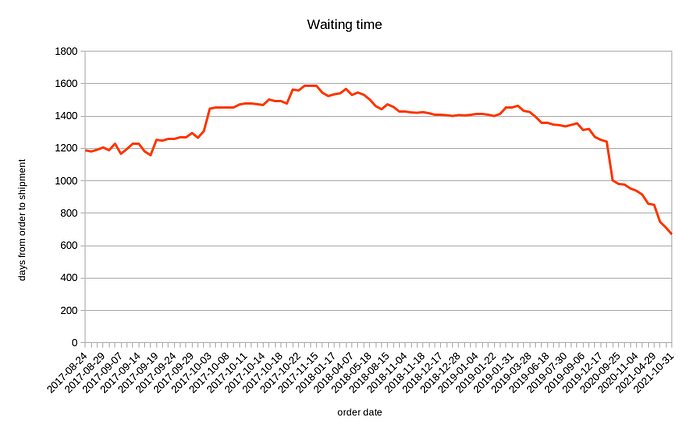 | Date | Phones | Ship dates (not arrival date!) |
| --- | --- | --- |
| 2017-08-24 | 5 | 2020-11-24, 2021-01-11 |
| 2017-08-25 | 73 | |
| 2017-08-26 | 122 | 2020-11-19 |
| 2017-08-28 | 158 | 2020-12-02 |
| 2017-08-29 | 173 | 2020-12-17 |
| 2017-08-31 | 245 | 2020-12-02, 2021-01-04 |
| 2017-09-02 | 259 | 2021-01-13 |
| 2017-09-03 | 268 | |
| 2017-09-04 | 285 | |
| 2017-09-05 | 290 | |
| 2017-09-06 | 297 | |
| 2017-09-07 | 303 | 2020-11-17, 2019-12-27 (Chestnut), 2020-11-17 |
| 2017-09-09 | 347 | |
| 2017-09-12 | 407 | 2020-12-21 |
| 2017-09-13 | 420 | 2021-01-22, 2021-01-25 |
| 2017-09-14 | 480 | 2021-01-25 |
| 2017-09-16 | 555 | 2020-12-11, 2021-02-22 |
| 2017-09-17 | 618 | 2020-11-18, 2021-02-18, 2021-02-10, 2021-03-01 |
| 2017-09-18 | 674 | |
| 2017-09-19 | | 2021-02-23, 2021-02-25 |
| 2017-09-20 | 759 | 2021-02-19, 2021-02-23 |
| 2017-09-21 | 845 | |
| 2017-09-22 | 932 | |
| 2017-09-23 | 945 | 2021-03-05 |
| 2017-09-24 | 964 | 2021-03-05 |
| 2017-09-25 | 1025 | |
| 2017-09-26 | 1075 | |
| 2017-09-27 | | 2021-03-19, 2021-03-19, 2021-03-19, 2021-03-24 |
| 2017-09-28 | 1172 | 2021-03-19, 2021-03-24 |
| 2017-09-29 | | 2021-04-16, 2021-03-24 |
| 2017-09-30 | 1266 | 2021-03-19 |
| 2017-10-01 | | 2021-04-30 |
| 2017-10-02 | 1369 | |
| 2017-10-03 | | 2021-09-17, 2021-09-17 |
| 2017-10-04 | 1479 | |
| 2017-10-05 | 1506 | |
| 2017-10-06 | 1630 | 2021-09-30,2021-09-29,2021-09-30,2021-09-30 |
| 2017-10-07 | 1745 | 2021-09-28,2021-09-29, 2021-10-01, 2021-10-06, 2021-10-06, 2021-10-06 |
| 2017-10-08 | 1832 | 2021-10-01, 2021-10-04 |
| 2017-10-09 | 1926 | 2021-09-29, 2021-10-12,2021-10-27 |
| 2017-10-10 | 2058 | 2021-10-20 |
| 2017-10-11 | 2193 | 2021-10-25 |
| 2017-10-12 | | 2021-10-26 |
| 2017-10-13 | | 2021-10-25 |
| 2017-10-14 | | 2021-10-21 |
| 2017-10-15 | 2346 | |
| 2017-10-16 | | 2021-11-26 |
| 2017-10-17 | 2416 | 2021-11-16, 2021-11-16 |
| 2017-10-18 | 2467 | 2021-11-16, 2021-11-16, 2021-11-16 |
| 2017-10-19 | 2498 | 2021-03-14 |
| 2017-10-20 | 2580 | 2021-11-05, 2021-11-05, 2021-11-12, 2021-11-16, 2022-03-22 |
| 2017-10-21 | | 2022-01-31, 2022-03-04, 2022-03-08 |
| 2017-10-22 | | 2022-01-27, 2022-03-01, 2022-03-31 |
| 2017-10-23 | 2863 | 2022-02-25, 2022-03-25, 2022-03-24 |
| 2017-10-24 | 2979 | |
| 2017-10-25 | | 2022-03-01, 2022-03-22 |
| 2017-10-27 | 3006 | |
| 2017-10-28 | 3012 | |
| 2017-11-01 | 3016 | |
| 2017-11-03 | 3019 | |
| 2017-11-08 | 3035 | |
| 2017-11-12 | 3050 | |
| 2017-11-15 | | 2022-03-22 |
| 2017-11-16 | 3060 | |
| 2017-11-18 | 3063 | |
| 2017-11-20 | 3068 | |
| 2017-11-21 | 3077 | |
| 2017-11-25 | 3087 | |
| 2017-12-11 | 3119 | |
| 2017-12-17 | | 2022-03-10 |
| 2017-12-21 | 3133 | |
| 2017-12-22 | 3134 | |
| 2017-12-23 | 3135 | |
| 2017-12-26 | 3140 | |
| 2017-12-31 | 3148 | |
| 2018-01-11 | | 2022-03-14 |
| 2018-01-17 | | 2022-03-31 |
| 2018-01-23 | 3211 | |
| 2018-02-05 | 3234 | |
| 2018-03-01 | | 2022-05-19 |
| 2018-03-03 | 3278 | |
| 2018-03-08 | 3288 | |
| 2018-03-09 | 3289 | |
| 2018-03-11 | 3290 | |
| 2018-03-14 | | 2022-06-28 |
| 2018-03-18 | 3299 | |
| 2018-03-20 | 3302 | |
| 2018-03-24 | 3305 | |
| 2018-03-25 | 3307 | |
| 2018-04-01 | 3319 | |
| 2018-04-07 | | 2022-06-15 |
| 2018-04-08 | 3336 | |
| 2018-04-12 | | 2022-07-05 |
| 2018-04-15 | 3353 | |
| 2018-04-17 | 3357 | |
| 2018-04-21 | 3364 | |
| 2018-04-26 | 3374 | 2022-07-05 |
| 2018-04-30 | 3384 | |
| 2018-05-01 | 3384 | |
| 2018-05-02 | 3387 | |
| 2018-05-04 | 3390 | |
| 2018-05-09 | 3394 | |
| 2018-05-13 | 3408 | |
| 2018-05-14 | 3408 | |
| 2018-05-18 | | 2022-06-28 received |
| 2018-05-20 | 3427 | |
| 2018-05-25 | 3437 | |
| 2018-05-27 | 3441 | |
| 2018-05-29 | 3451 | |
| 2018-06-07 | 3480 | |
| 2018-06-14 | 3506 | |
| 2018-06-19 | 3521 | |
| 2018-06-23 | 3529 | |
| 2018-07-02 | | 2022-07-02 |
| 2018-07-09 | 3581 | |
| 2018-07-22 | 3628 | |
| 2018-07-30 | | 2022-05-17 |
| 2018-08-01 | 3653 | |
| 2018-08-05 | 3671 | |
| 2018-08-07 | | 2022-07-25 |
| 2018-08-08 | 3677 | |
| 2018-08-09 | | 2022-07-21 |
| 2018-08-14 | 3708 | |
| 2018-08-15 | 3715 | 2022-08-26 |
| 2018-08-16 | 3719 | |
| 2018-08-31 | 3779 | |
| 2018-09-04 | 3795 | |
| 2018-09-05 | 3799 | |
| 2018-09-08 | 3820 | |
| 2018-09-11 | | 2022-09-06 |
| 2018-09-12 | 3838 | |
| 2018-09-24 | 3929 | |
| 2018-09-25 | 3931 | |
| 2018-09-29 | 3952 | |
| 2018-09-30 | 3957 | |
| 2018-10-01 | 3959 | |
| 2018-10-02 | 3959 | |
| 2018-10-03 | 3967 | |
| 2018-10-04 | 3970 | |
| 2018-10-05 | 3975 | |
| 2018-10-30 | XXXX | 2022-09-27 |
| 2018-11-04 | XXXX | 2022-09-30 |
| 2018-11-08 | XXXX | 2022-09-30 |
| 2018-11-09 | XXXX | 2022-09-29 |
| 2018-11-18 | XXXX | 2022-10-12 |
| 2018-11-24 | XXXX | 2022-10-11 |
| 2018-12-09 | XXXX | 2022-10-19 |
| 2018-12-17 | XXXX | 2022-10-24 |
| 2018-12-21 | XXXX | 2022-10-26 |
| 2018-12-26 | XXXX | 2022-10-26, 2022-10-31 |
| 2018-12-28 | XXXX | 2022-11-03 |
| 2018-12-31 | XXXX | 2022-11-04 |
| 2019-01-01 | XXXX | 2022-11-08 |
| 2019-01-04 | XXXX | 2022-11-15 |
| 2019-01-06 | XXXX | 2022-11-17 |
| 2019-01-09 | XXXX | 2022-11-17 |
| 2019-01-22 | XXXX | 2022-11-22, 2022-11-30 |
| 2019-01-29 | XXXX | 2022-12-12 |
| 2019-01-30 | XXXX | 2023-01-24 |
| 2019-01-31 | XXXX | 2023-01-24 |
| 2019-02-06 | XXXX | 2023-02-08 |
| 2019-03-19 | XXXX | 2023-02-18 |
| 2019-03-28 | XXXX | 2023-02-20 |
| 2019-04-29 | XXXX | 2023-02-22 |
| 2019-05-15 | XXXX | 2023-03-21 |
| 2019-05-04 | XXXX | 2023-06-06 |
| 2019-06-09 | XXXX | 2023-02-24 |
| 2019-06-18 | XXXX | 2023-03-08 |
| 2019-07-06 | XXXX | 2020-11-12 (this is an exceptional out of order delivery) |
| 2019-07-08 | XXXX | 2023-03-16 |
| 2019-07-10 | XXXX | 2023-03-15 |
| 2019-07-30 | XXXX | 2023-03-27 |
| 2019-07-31 | XXXX | 2023-04-06, 2023-04-26 |
| 2019-08-02 | XXXX | 2023-05-16 |
| 2019-08-04 | XXXX | 2023-04-20 |
| 2019-08-20 | XXXX | 2023-04-19 |
| 2019-09-06 | XXXX | 2023-04-12 |
| 2019-09-08 | XXXX | 2023-04-20 |
| 2019-09-15 | XXXX | 2023-04-20 |
| 2019-09-24 | XXXX | 2023-05-17 |
| 2019-09-28 | XXXX | 2023-04-24 |
| 2019-10-25 | XXXX | 2023-04-27 |
| 2019-10-31 | XXXX | 2023-04-24 |
| 2019-11-16 | XXXX | 2023-06-09 |
| 2019-12-11 | XXXX | 2023-06-06 |
| 2019-12-17 | XXXX | 2023-05-23 |
| 2019-12-31 | XXXX | 2023-05-26, 2023-06-14 |
| 2020-02-04 | XXXX | 2023-06-13 |
| 2020-06-09 | XXXX | 2023-06-15 |
| 2020-06-17 | XXXX | 2023-06-08 |
| 2020-09-02 | XXXX | 2023-06-02 |
| 2020-09-25 | XXXX | 2023-06-03 |
| 2020-10-04 | XXXX | 2023-06-08 |
| 2020-10-20 | XXXX | 2023-08-17 |
| 2020-10-27 | XXXX | 2023-06-07 |
| 2020-11-04 | XXXX | 2023-06-01 |
| 2020-12-18 | XXXX | 2023-06-21 |
| 2021-02-09 | XXXX | 2023-08-23 |
| 2021-02-13 | XXXX | 2023-06-22 |
| 2021-03-XX | XXXX | 2023-08-25 |
| 2021-03-14 | XXXX | 2023-08-24 |
| 2021-04-29 | XXXX | 2023-08-29 |
| 2021-08-06 | XXXX | 2023-08-23 |
| 2021-09-12 | XXXX | 2023-08-24 |
| 2021-10-31 | XXXX | 2023-09-01 |