I find it odd that the PureOS Store icon is a shopping bag with a picture of a button on it.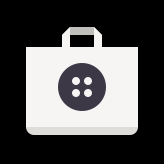 This is not a criticism, per se; just an expression of mild puzzlement. Can anyone explain how this came about?
A haberdashery shop is not the first kind of shop I would have thought of drawing an analogy with in order to illustrate the concept of "app store"; I probably would have gone for some kind of tool shop or DIY store.
But, then again, apps are not necessarily tools. Sometimes they serve a decorative or not purely utilitarian purpose, or they are materials for building a larger whole, in which case haberdashery works rather well as an analogy. But art and design materials, as seen in RISC OS and Mac OS, probably have closer equivalents in the realm of software. Sewing materials seem strangely specific.