My new Nexdock 360 (ND) arrived this afternoon, and (at least after only an initial glance) it interacts extremely well with my Librem 5 (L5).
Procedure I used: with L5 running & ND off, I connected L5 to ND (USB-C to USB-C), then the hit power button on ND. My custom L5 background quickly appeared on the ND, and the red LED on the L5 started blinking (indicating a charging problem). This flashing light occurs whether or not the ND is plugged into its wall wart. The L5 battery indicator shows a lightning bolt, meaning it's at least trying to charge.
It's still too early to firmly state the rules, but the behavior I'm seeing is that freshly-opened applications appear on the screen currently holding the cursor.
When I opened Clocks, it filled the L5 screen; I then used the ND trackpad to move the cursor to the Clocks title bar & drag it to the ND screen. The window instantly shrank vertically (no scaling change) for some reason, demonstrating what libhandy brings to the table; all the information appeared in the now smaller window. Dragging the window between the 2 screens was beautifully fluid, and acted as you'd expect with a 2-monitor setup. When I dismissed Clocks & reopened it, it resumed at whatever size it was previously. When I disconnected the L5 from the ND, then Clocks instantly moved back to the L5 screen at it's usual full-L5-size.
The trackpad & keyboard (entering text into Terminal) were buttery smooth. I was quite pleased to find that the keyboard automatically respected my Dvorak layout.
All-in-all, very, very impressive. I'll also be testing it in short order with my Nexus4 running UBports.
In the shots below, you can see the side-by-side connection (merely propped up - no fancy phone holding screen attachment yet), and zoomed-in showing the Usage app dragged so it's partway on each screen. The black water in the 1st shot is my phone's background image. You'll note the app's bottom doesn't align between the 2 screens (by more than the tops don't align due to my slopping positioning of the L5) - I'm guessing that's due to a screen resolution mismatch. I'm not bothered by it at this point.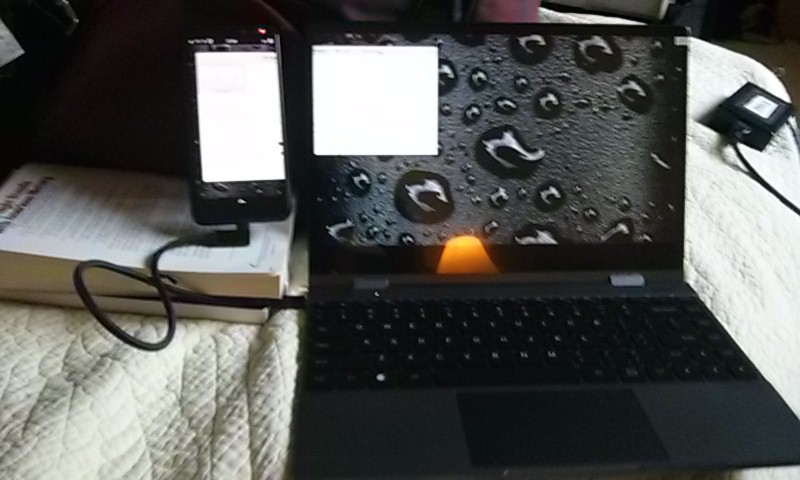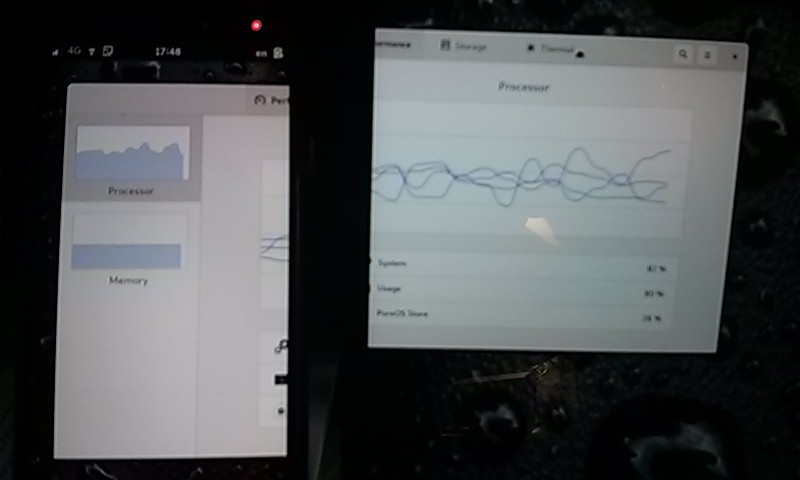 What questions can I answer?