Some discussions in IRC about hardware killswitches were interesting enough (thinking dobey and others!) to post an idea. I know crowdfunding does not equal to open development, let's put it as a naive submission hoping this part of the design has not yet been finalized.
The idea is to have hardware killswitches centralized on a dipswitch. And to shelter the control panel under a hatch, to prevent mishandling when in pocket.
Personal taste for the placement of this panel :
1 on the side, if the small bezel route is not taken
2 on the back, separated from battery compartment
3 on the back, integrated into battery compartment
I think such a contrast between an antique dipswitch and a beautiful phone design could make sense : people, when opening the hatch, would feel like accessing to the very deep electrical internals of the phone, and get an awaited sentiment of being in control. One could check with a multimeter his module is indeed off.
There are drawbacks: lenghtening power lines to all those components adds both complexity in the PCB traces and impedance, which asks for bigger capacitors.
Time for a picture alas. We talk functionality here, you got to imagine the glitter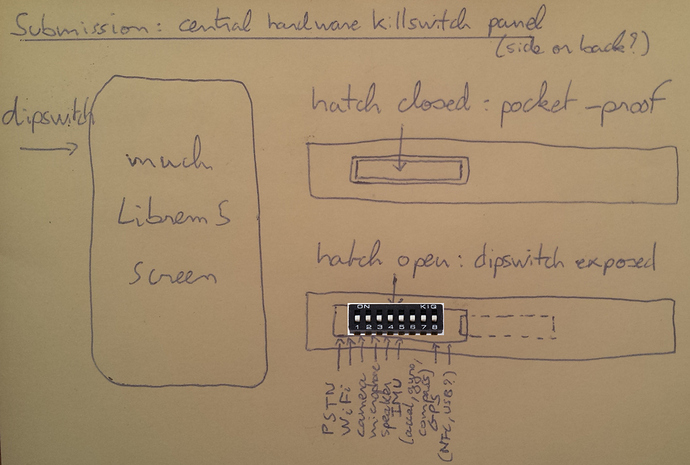 I have put an arm-long list of killswitches (cellular network, WiFi, cam, microphone, speaker, acceleromter/gyro/compass, GPS, (NFC, USB?) ; that is the purisming-to-the-maximum option!