Hi all,
I really appreciate the weekly news. This helps a lot in order to show the transparent state of the current work.
In some of the last posts responding to the news I read a comment, asking about the current state of the plan and if this project is still on track. I think this is a very interesting but also difficult question and I am not sure if it can be answered.
So what I did is, taking the GANTT-Diagram from the librem 5 page and drawing a line where I guess should be End of January (now).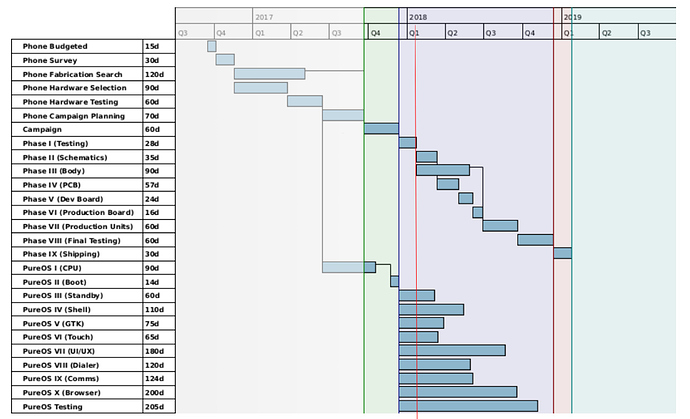 Looking at this diagram I noticed that for me it's not completly clear what is included in those points. E.g. the Hardware Selection is already done since Q2 2017, but as we all know it's still open which Hardware will be used, so I assumed that there is still some Hardware finalization necessary. From this point I thought, if you can already proceed with further future tasks without having those points clear?
I understand the Dev Board as some kind of Proof of Concept, but this would mean you might need after the production of the board still some time to adjust everything to the board of the actual phone.
In a nutshell: This diagram does not reflect important dependencies you have in the project, though we can't see if this project might have delays later on.
In case there are and from this point it's already forseeable to have delays, from my experience it would be best to communicate this as early as possible, as I guess the most of us would understand and happily wait a bit longer for this incredible project. Telling us delays in Salami tactics on the otherhand would make us said every here and there or with one smash 2018-12.
Personally I think that the PureOS is not the critical path right now, we can all see that you have a dependency to the imx6 or imx8m decision.
In general I think some more information on the plan would help us, I would even understand that you can't tell us right now as:
you have contracted new people and have to onboard them (the project will shortly be slowed down and the average output is unknown)
you may not yet have the estimations to know anything
there are always risks but a good plan highlights them in order to take measures
What do you think? Do you feel well informed about if this project is on track? Would you prefer knowing about a delay now or later? Would you mind having this project a bit later or knowing risks when on the other hand you would be better informed? Please share your opinions!
Kind regards,
Max