Hi there fans of the Librem 5!
I just saw the latest sales campaign on LinkedIn. It's intriguing, tbh.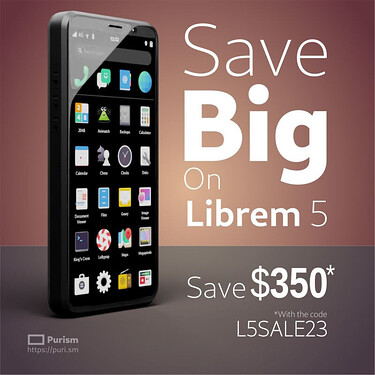 Any Plans For The Next-Gen Phone?
As someone truly hoping for a better future, I'm just wondering what the plans are for "the next model" before I buy this one. My point is, I'm happy to take advantage of a coupon but I'd rather pay (and wait) a bit more than find out that there's a new model coming out after Christmas having dual-SIM and 8 GiB of RAM (or something similar). I'd prefer to make a long(er)-lasting investment.
Dual-SIM or e-SIM?
Not sure if this has been asked before in this forum: Can we take advantage of e-SIM or is this a tracking feature of Big Tech and its industry not available to Purism? – I need to use two carriers on a daily basis (Italy and Switzerland) and I'd rather switch to the Librem 5 entirely than having to carry around a surveillance device for my second phone number.
More RAM
I'm aware that the Liberty Phone has 4 GiB of RAM. I'm still not sure how good of an option this is given that GNOME (GNOME shell, specifically) seems memory-hungry from time to time. I'd be more in a peace of mind knowing I could upgrade to larger RAM easily, when needed.