Hi! A little back story for this two-fold query…
Since I was initially unaware that an inaugural update and upgrade of a new Librem15v3 was required to be able to install things via GNOME Software, when my first attempt to install GIMP failed, I downloaded a flatpak version directly from the Flathub website instead. (It seemed like the next best/easiest option at the time. I now know camps are somewhat divided about flatpaks, but hopefully that won't derail things.

) That installation seemed to stall however, so I aborted it (I don't know what --if anything-- of it actually got installed).
I then found out about and did the update and full upgrade, and eventually was able to install GIMP via Software after all. It seems to be working fine, but…
1 . Now, when I open Software, it lists a glut of packages available from Flathub. I'd prefer to stick with what is available via pureos-green-main for the time being, and would like to remove the Flathub repo, but it is not listed in Other Software in Software & Updates. Where is it hiding?
That said, I was wondering if the PureOS folks would consider adding a Sort by Repo function to the Software application manager (in addition to the existing Top Rated and Name). Might be useful for those who do deal with multiple repos?
2 . I normally launch GIMP from the Favorites dock, but the other day I searched for GIMP in Software, and got three results…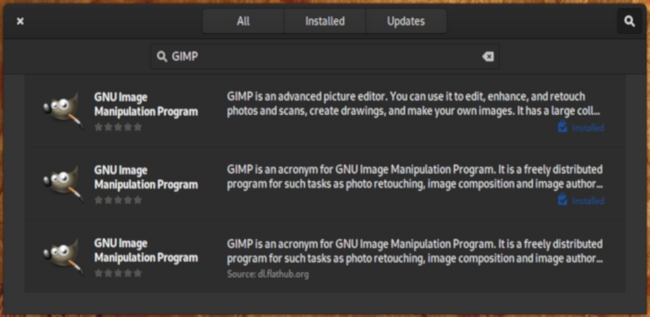 I initially thought the second of the two that say they are installed was just residue of the aborted flatpak install, but nope. They are both listings for the same version from pureos-green-main but with different blurbs, number of ratings, etc. The second one doesn't do anything when I click 'Launch'. Oddly, that is also the one in the separate 'Installed' list. Anybody know what's up with this? Do I have two battling GIMPs in the background?