Hello,
I want to start a new thread where people can show how the Handy Widgets look like. For me, for example, it is not always easy to imagine how a widget will look like, when using it in an app, when I read the description of it in the documentation.
So this thread is for developer who then can better decide which widgets they want to use in their own application.
My example for you is the Handy Carousel: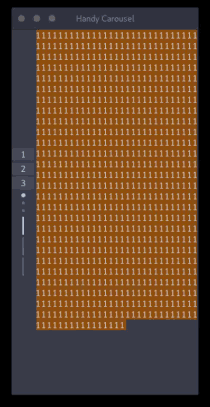 I also added the two kind of indicators for the Carousel. They can be used in a vertical orientation as shown in the animation or in a horizontal one, which is the default setting.
Feel free to add your own examples