I have seen some interest in VoIP/SIP calling from the L5 so I thought it might be useful to make a post showing that it is possible.
I used an app called Twinkle that can be found in the PureOS store. On first launch, it asks you to configure a profile. I configured it using the SIP credentials from my existing Flowroute account. Following that, it takes you to the main page, which looks like this: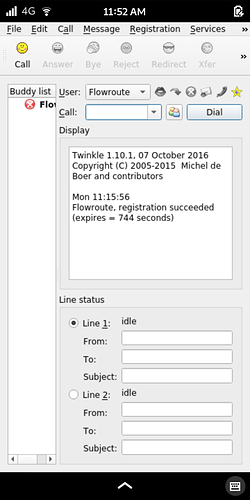 From there, you can click Call in the top left, type a number, click OK and the call begins. I was able to call and communicate with my other phone using either WIFI or 4G via Red Pocket SIM on the L5.
As you can see from the screenshot, the interface isn't quite optimized for mobile but it is completely usable.
I wasn't able to receive calls yet, but that is the harder part since the device has to receive incoming connections from the SIP provider. I remember that being difficult when I set up my FreePBX server last year. I am not an expert in SIP, I just had some IP phones lying around and thought it might be fun to try to get them working. It should be possible on the L5, I just haven't taken the time to figure it out yet.