Just now I noticed that mpv Media Player appeared on my home screen, seemingly out of nowhere.
I just flashed to Byzantium a few days ago, so my file system should be completely fresh.
I don't recall installing mpv.
I don't think it was included in the default apps.
It's not officially adaptive to the screen anyway.
To find it by searching from the PureOS store app, you have to enable "Show incompatible applications."
I did install it once, briefly, for testing purposes months ago, when I was still on Amber. I then uninstalled it.
And then there's this little tidbit from the store: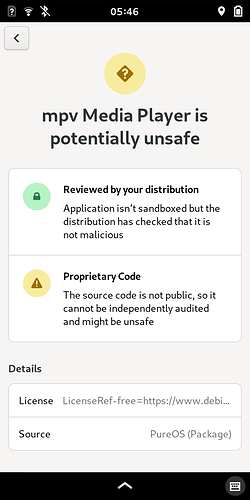 Is it possible that my file system retained mpv data from my Amber days and just decided to reactivate?
Did mpv get installed as part of some process I ran? (I had just run glxgears -fullscreen for @Quarnero.)
Did it come bundled with some other app I installed after the reflash to Byzantium? (Lollypop, Feeds, GNOME Screenshot, Power Statistics, What IP, Firefox-ESR, Nemo, AisleRiot…?)
Did I just tap it by accident from the software search page? (I don't think so.)
Anyone have a clue?
P.S. At any rate, I don't see how this app could be used on the L5. Isn't it necessary to drag a file or url onto its screen in order to play it?