Here is my attempt to identify where the components are placed on the Librem 5 boards: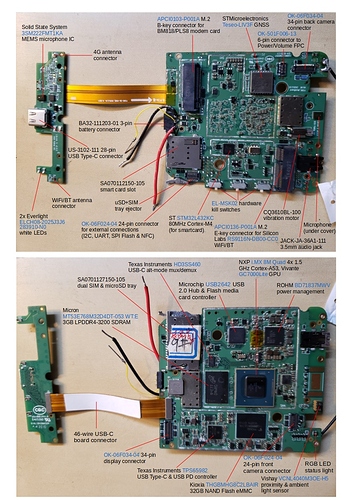 I'm not sure about the Microchip USB2642 USB 2.0 Hub & Flash media card controller, because it has the right number of pins and is the right size, but it doesn't look like a QFN package. The other one that I'm not sure about is the Texas Instruments TPS65982 USB Type-C and USB PD controller, but it looks like the right size and package type.
I can't find these chips:
I'm guessing that the WM8962 is the small chip to the right of the i.MX 8M Quad, and the other two are underneath the two metal shields. The W25Q16JVUXIM TR is pretty distinctive with an SOIC-8 package, so I'm sure it is hidden under the shielding, but the WM8962 and BQ25895 are hard to tell apart visually (especially with these poor quality photos of the boards).
One interesting thing that I hadn't noticed before is that the external connector has inputs labeled as NFC_EN (pin 6) and NFC_IRQ (pin 14) on page 14 of the schematics, so maybe NFC can be added in the future.
Another thing that I didn't notice before is the two white LEDs on the USB-C daughter board. Has anybody noticed a white light near the USB-C port?