Please add a leafy that tells about the oportunity of installing other operating systems/software than pre-installed PureOS on screens of Librem devices. This tells non-technical users that a computer is a machine that execute exactly the software that the user gives it, and you only pre-installed one to it. This is not obvious to everyone. Also, stop calling PureOS the "official" operating system and call it the pre-installed operating system.
I think you can relate to this, since you favor open and free software/hardware, you are against the idea brought by marketers that the computer would not be universal that the software would define it and be an inseparable part of it (I mean for real there are only computers, not TV, phone, etc. with spesific OS as an inseparable part, but yup some manufacturers lock their devices and do it artificially.)¹. Now, however, you're marketing PureOS as an inseparable part of Librem devices like Apple does with macOS. Please stop it.
Ref 1: "The Librem 5 is the quintessential example of this computer with screen in a phone form factor. Most people have been indoctrinated (read brainwashed) into believing that a phone is something very phone-specific. This is entirely due to how the modern day smartphone developed around business models that incentivized vendor lock-in, mobile-specific OSes, application "stores" that offer mobile curated applications only for mobile, and a multi-billion dollar business to ensure things stay that way. The Librem 5 had forethought. It was created from industry veterans who understand that "this is a computer, it just happens to be in a phone form factor." So we set off to do exactly what I wanted when starting Purism, to have the same OS for server, desktop, laptop, tablet, and phone. So we wrote libhandy, phosh, phoc, released PureOS for two architectures (x86 and arm64), and are building real convergence, where your desktop computer can also be your phone."
Something like these, but with beautiful Cantarell font, GNOME icons and other graphic art.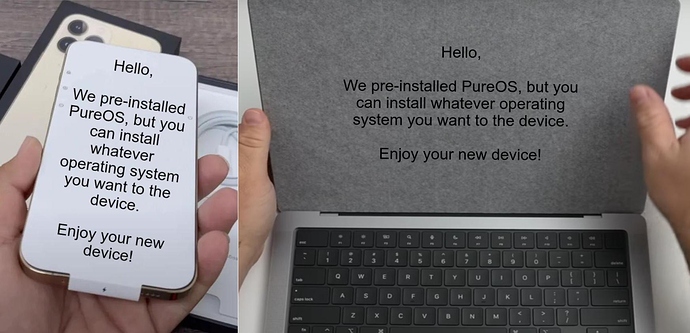 Read more here: https://discussion.fedoraproject.org/t/fedora-slimbook/83685/24