But there is a desktop version, can't we use that?
One more for the list - received in EU
order date : October 7, 2017
address/modem confirmation mail : September 27, 2021
tracking number mail : October 6, 2021
arrival date : October 8, 2021
Now trying to find out what I can make it do that improves my life.
Last ones receiving it ordered October 8, 2017 hope I can get mine shortly.
order date : October 15, 2017
address/modem confirmation mail : not received
tracking number mail : unknow
arrival date : unknow
Thanks everybody for the data points, I took the liberty to remove an address confirmation mail from the table (we track when actual shipping starts), and updated the chart in the first post too. It seems within the last 3 weeks (<-- updated) around 400 devices have been shipped, if the data are somewhat correct (no guarantee though :-)).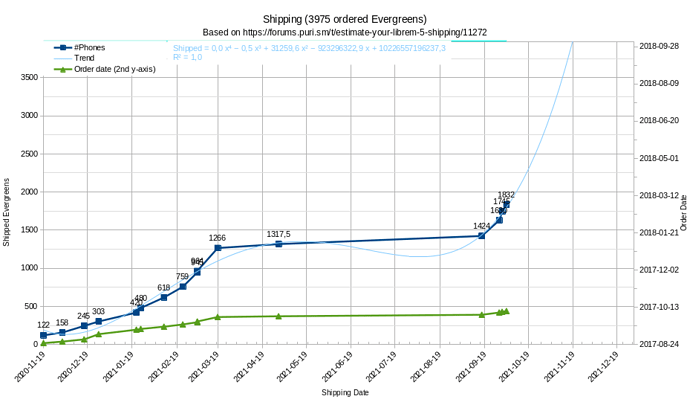 You can make it do less than your former smartphone.
Tony adds a data point in the #community-librem-5:talk.puri.sm room:
Ordered: 2017-10-08 (matrix msg)
Shipment: Oct 1 2021 (matrix msg)
Received: Oct 7 2021

out of the box it can already do less. Less leaking of data too

now I also need to find out how to make it do some things I want. It feels like early days of linux: information scattered and a lot is possible once you find "the way". I guess it is part of the fun journey
so I hope the exponential growth of users will help development. The graph is looking promising
1317,5 - now we need find that one customer, who got half of his ordered phone…
I just knew somebody would comment on that number :-).
I'm a bit late, but the more data the merrier. I did opt for Evergreen even though I was scheduled for Dogwood.
order date : September 17, 2017
address/modem confirmation mail : Nov 12, 2020
tracking number mail : November 18, 2020
arrival date : November 27, 2020
Received my phone today in the EU
order date: October 7, 2017
address/modem confirmation mail: September 27, 2021
tracking number mail : October 6, 2021
arrival date: October 12, 2021
Jos says:
New data point for L5:
Order date: 2017-10-09
Address mail: 2021-10-05
Ship date: 2021-10-12
Arrival date: 2021-10-14
(updated chart in post 1)
Received my LIbrem 5 in the US
Order Date: Oct 9, 2017
Tracking Email: Oct 11, 2021
Delivery: Oct 15, 2021 (would have been Oct 14, but FedEx botched the delivery).
Trend'(x) should not be allowed to be <0 unless there have been returns.
Just to show how bad the chip shortage is:
Earlier this year, I went in to a Ford dealership in a busy part of Phoenix Arizona (Bell Road for those who know the area). After I parked my car and got out, there wasn't a hoard of hungry sales people on me (as there usually would be) before I could get inside. In fact, no one greeted me. I went inside: Me: "hello, is anyone here?". Voice from behind a cubicle/office wall: "can I help you?" (he didn't bother to even stand up). Me: "Yes, I want to buy a Ford Ranger today". Voice: "I couldn't sell you a Ford Ranger now even if you paid cash". Me: walked out without ever even seeing anyone. The lot was nearly empty. I had never seen a dealership empty car lot on a busy highway before.
So I went a few doors down to a used vehicle lot. No f-ing way was I going to do business there when I saw their prices. They tried to sell me a two-year-old used Ranger for the price of an off-the-lot new one. And they wanted cash or 24% interest. They didn't care how good my credit is.
I ended up waiting three months for a top of the line remanufactured engine to arrive from Jasper and had it put in to my old 2000 Ranger. It cost me $7,400.00 installed (including lots of other under-hood parts replaced in the process also). It runs like a fine piece of machinery now and maintains ice cold air conditioning. If your current vehicle isn't likely to outlast this pandemic, now might be a good time to start planning ahead.
BS unfortunately. I upgraded my Dec 2018 L5 order to USA edition on 5 July 2021. Still "Awaiting Shipment" after 100 days with no firm shipping date

.
I feel ya. Feb 2021 USA order here. I received my confirmation email Oct 29. Still no tracking number yet.
I know it's a old post, but just wanted to say I'd love a device that does not have all those stalkers which may be the best thing to happen to "young adult/teen"s from what I've seen the 'apps' do. Might slow up that ride down the slippery slope to becoming automatons themselves.
-s-
So if I ordered a regular Librem 5 in early 2019 I will be waiting another year or so at least? Does that sound about right?