@librem5, several questions (even if you already answered or already gave other hints about them please bear with me) if you don't mind:
Did you tried already some other USB-A to USB-C cables (just borrow few from your neighbors, up to 0.6m are preferable, should work ones but any will do if just the right one, right choice for the purpose)?
Did you already charged your Librem 5 battery externally up to the point where all four green LCD indicators are staying/lighting steady (when charging stopped at 100%=4.2V)? Asking while suppose that your L5 battery might have some issues, not balanced well or whatever (but not dead one) and suppose you are not having second one to make sure that the your only Librem 5 battery can deliver over 2.0A (even over 2.5A) right from the start of boot procedure. That your battery depletes significantly is already clear but please repeat restart of your phone (directly or through Jumpdrive or any other method) only with over 75% of your battery capacity (your external universal charger will show capacity of it without … see attached picture). Note that steady Librem 5 red LED light will be steady even when L5 battery at 0% of its capacity (we know that but please bear with me). If you live within Europe I might send you another L5 battery overnight, just ask for such help if needed.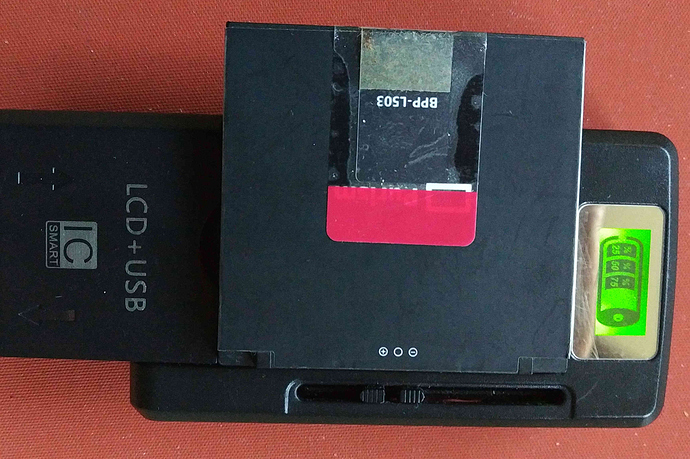 Furthermore when your phone's battery at almost 100% did you hold power button for over 16 seconds and tried to get it back to life that way (I don't recommend using original power supply when doing this, holding prolonged switch-on button, while not sure …)? As kindly, with emphasis on important procedure, described and explained here:
You are an advanced Linux user and very flexible one (know very well how to find your way through Linux environment) but keeping our dialog alive will help all of us here in this Forum. Did you already tried to power your Librem 5 from its original power supply (it is rated as PD 5V/3A) from, without Librem 5 battery inserted? I never tried this by myself as cannot trust that this will stay within 5V range in any situation and never ever negotiate higher number than 5.0V, but that's just me.
Please download this PureOS amd64 image (18-Mar-2022 one), burn it on some quality USB Flash drive and use it on/with your laptop in order to repeat needed steps to get your Librem 5 work again. Even installing newest uuu (if needed to be added/installed, probably) package within this live setup is just normal procedure (we do not need to keep there anything forever), although for temporary usage only. If any add-on package necessary:
etc.
Just my two cents with hope that any of above (in particular or as combo) questionings or tips help for real.