Continuing the discussion from Mobile-Friendly Firefox Customizations for Librem 5:
Taking up your suggestion @user0, I consolidated all your work into a Git repository and published it at Codeberg:
What is this?
What I did is pick up all files from the thread, identify the upstream revisions that user0's changes are most likely based on, and merged it all together into a reconstructed timeline.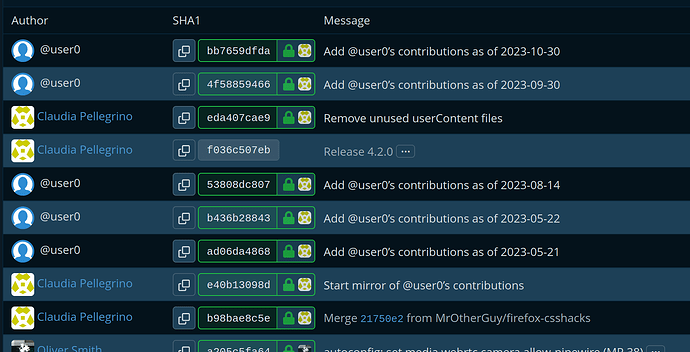 Why?
So you can download all files in one single tarball instead of plucking them from the thread one by one.

To make user0's work future proof: Anyone can fork the repository, make their own changes, track future incoming upstream changes more easily, and even contribute some of user0's modifications back to the upstream projects, or possibly to PureOS.
Timeline
Here's a simplified timeline:
See the same timeline of commits on Codeberg's web interface.
How to use the files
See the original thread.
I still haven't gotten around to actually installing and using the files myself.
But I think I'll be tackling them soon.
Maybe some of you folks are going to find this repository useful.
Pinging @ThisGuy and @tfardet, who have asked for one in the past.
You can find the current set of files in the src/userChrome and src/userContent directories.
Thanks again for your work @user0!