I just wanted to share my current findings with other folks who are looking for the ideal convergence set up for their Librem 5. I have long been a fan of tiny laptops and when I talk about convergence with the Librem 5 and Nexdock 360 for travel some folks come back with the observation that the Nexdock 360 is the same size as a laptop.
Without getting into the counterarguments there, and the benefits of traveling with an inexpensive lapdock instead of a full computer, I also realized it would be nice to have a tinier lapdock myself. The UPERFECT X Mini is an 11.6" lapdock that just came out and mine just arrived yesterday so here's a quick sneak peek while I put it through its paces.
Here you can see the lapdock on top of a Nexdock 360 for scale: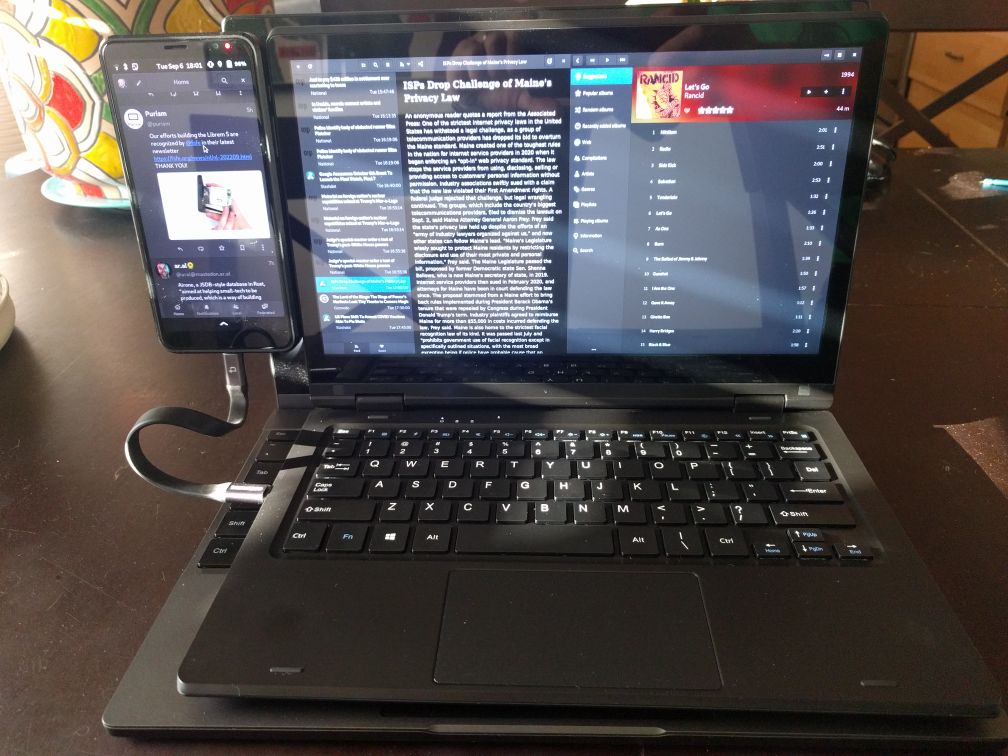 Some first impressions:
Barrel charger is an annoying regression. I ordered a USB-C -> Barrel adapter so I can use my existing USB chargers and battery bricks.
Screen needed adjustment. By default the brightness was set to high and contrast too low, but you can change these with function keys. Once adjusted it looked pretty nice.
The hinge is very nice and sturdy and even with the phone hanging from it, it holds its position firmly.
Keyboard tactile feedback is nice, not exactly clicky but I think I like the feel more than the 360. The keys themselves are smaller than standard and for some people you may have to take some time to adjust but I took to them pretty quickly. The big gotcha is the Del and | key locations (this is a US Intl (alt) layout). Time will tell whether I get used to that.
Phosh "just worked" out of the box. I was able to connect the Librem 5 and it detected the phone and extended the desktop just like on my nexdock 360.
"Tablet mode" works. This has a 360 hinge like the nexdock but you need to tell phosh to use it as a touchscreen. I had to manually figure out a gsettings command to make phosh detect it as a touchscreen, but I also added a patch that just got merged to phosh-mobile-settings to make it aware of this lapdock so you can enable the touchscreen through that tool. I used it in tablet mode to read a book last night and it worked pretty well. More comfortable on my lap in that mode than the larger 360.
Low power charging. It does provide power to the Librem 5 while docked, but it looks like it maxes out at 500mA, which is not much (the Nexdock 360 provides 1A). Depending on what I'm doing I imagine the phone will slowly drain over time, instead of maintaining or increasing its charge.
Lots of nice USB ports. I haven't used them yet but it's nice to see them there.
All in all I like the X mini lapdock so far and I'm going to use it instead of my Nexdock 360 for the next week or so to see which I prefer. I think the big question marks will likely be the max charging current and whether that limits long-term use, and whether I can get used to the Del,| key placements.
But the neat thing about convergence is I can try out a "new laptop" form factor for a few hundred bucks and easily swap between devices.