Order: October 18, 2017
Address/Modem Email: 25 October, 2021
order date : Oct 9, 2017
address/modem confirmation mail : Oct 5, 2021
tracking number mail : Oct 27, 2021
my happiness? to the stars!
Nevermind, I was comparing dates on the last delivery to the latest address/modem emails

Ordered: Oct 11, 2017
Address mail: Oct 18, 2021
Ship date: Oct 25, 2021
Arrival date: Oct 29, 2021
More than four years of wait time. By this point, I'm disappointed that MMS and sleep mode is not implemented. I want Purism to succeed, but I think they shot themselves in the foot with shifty timeframes and not being straightforward with customers, even before the pandemic. I see the upcoming Pinephone Pro as a fantastic alternative for anyone thinking about a Linux phone, especially when considering the price point.
For some reason I cant edit my original post.
Order Date: 13 Oct 2017
Preferred Shipping batch: 18 Sep 2019
Assigned Evergreen Batch: 24 Jun 2020
address/modem confirmation mail: 18 Oct 2021
tracking number mail: 25 Oct 2021
arrival date: 29 Oct 2021
Thanks for all the data points, updated the chart in post 1. Shipping of L5 seems to continue at a rather steady pace…
I think Mid-End October 2017 was quite a busy crowdfunding time, looking at the purchase numbers, so we move slowly through the order dates now, but starting End October 2017 (order date) purism should be catching up if things hold up at this pace.
Interestingly, my 23rd October 2017 order has a estimated shipping date of first quarter 2022? Would that be Jan - March 2022 or Oct-Dec 2021?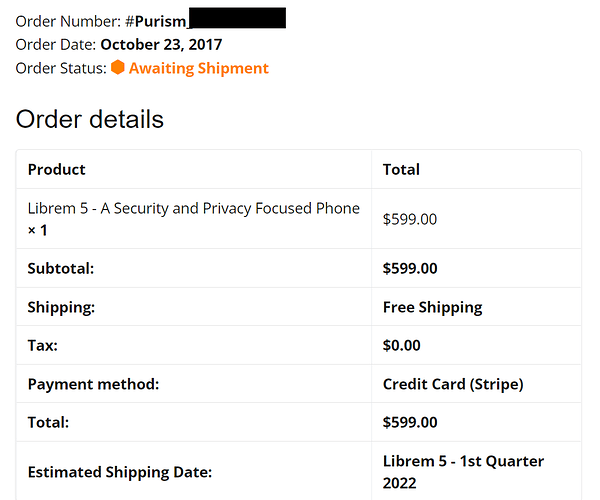 I guess they are a bit careful with their shipping predictions now. Understandably so, or people would shout 'yet another broken promise'!
FWIW many of us have suggested using more conservative estimates and I would be elated to see that feedback being taken to heart.
Traditionally, that would be Jan-Mar 2022.
Based on Purisms track record that would be Apr-Dec 2022 (and this track record pre-dates covid before that gets thrown into the mix, I hope they can finally break this cycle)
Based on the current rate of shipping (which we have no insight into many of the variables on so this cannot be used for accurate estimates but is still a data point nonetheless) shipping between the end of November and Beginning of Decembere 2021 is not out of the realm of possibility.
The last several weeks has seen an impressive amount of devices shipped out, as long as there is stock they should be able to exceed expectations set to you. If, however, there is no stock and that expectation is being set based on the most optimistic projections of the next batch of phones being delivered to Purism for QC and shipping… well that's where the historical disappointments have come from.
I hold out hope you will see your phone this year, and even more hope that this is a positive change for Purism.
buzzLightyear,
should be Jan to March 2022. However, be Lucky. In 2021 nightmare of a broken global World. It would be nice to have some kind of security.
We have not enough containers for shipping, not enough Humans to drive a truck. Have Covid-Embargo on some harbors. Some ressourcs have that issue too and in China are some factory's out of energy (shut down power plant), . Because of that clusterfu… catch over to different parts.
Till our World got stabile after we defeat the Climate and Financial issues, as a global working together community. I think nothing will be like before™.
Edit: This is not puri.sm's fault.
I get it and that is the sole reason I did not cancel the order. I've been good throughout the year so hope I get a Christmas gift

Ordered: 2017-10-14
Address mail: 2021-10-18
Ship date: 2021-10-21
Arrival date: 2021-11-02




I'd like to note that
by now approximately 2500 phones have shipped
once 500 more have shipped, this will be all orders till about end-of-October 2017 (+15 days)
once 500 more have shipped, this will be all orders till about June 2018 (+240 days)
Because the preorders curve flattened substantially after the campaign.
… have been good for the last three of them…

Myturnmyturnmyturn…
Ordered: 2017-10-09
Address mail: 2021-10-05
Ship date: 2021-10-27
Arrival date: Just now

(2021-11-03)
to EU/DK, taxes and stuff: ~107 EUR (included extra batt, memcard, screen privacy protector)
And now my order is updated with shipping information:
Order: October 20, 2017
Address/modem email: October 25, 2021
Shipped: 11/5/2021
Eagerly awaiting it's arrival.
What is the lowest rank in the queue for which there is a shipping estimate in the personal account order page?
For me, with an order in December 2018 (I estimate my rank to be 4200), there is no estimate available yet:


Order Date: September 13, 2018

Order Date: 2019-12-11
Estimated Shipping Date: Librem 5 - To be determined based on CPU availability. Please check back later.
Better than nothing. I'll be checking every few weeks, for sure.
Order Date: 16th October 2017
Estimated Shipping Date: Librem 5 - please contact support for information
I had contacted support recently as I noticed that there were some posts in this thread stating they had received modem/address confirmation mails for orders placed 18th, 19th and 20th October 2017 where I had received anything and I wanted to check and ensure that my order had not been overlooked.
While support did respond to my initial mail and requested some confirmations, I sent the confirmations along with a followup question and to date, there has been no acknowledgement or response.
While I'm pleased to see phones are shipping again and I'm pleased for those receiving their orders, I'm largely unimpressed by supports lack of response to my mails.