You are right. So my 1300 was close estimated.
Any comments on the v1.0.6 Evergreen?
So, have any of those 1,100 phones shipped out yet? I would've expected some posts here in the past couple weeks…
We're currently at v1.0.6.1, and that's what the newly arrived batch is (from what I know no v1.0.6 phones were ever shipped). The only functional changes since v1.0.3 that I'm aware about are improved GPS sensitivity and a change regarding DP AUX channel that could improve compatibility with some USB-C peripherals.
Here you go:
Oct 22, 2017: Order placed and confirmed.
Sep 19, 2019: Batch preferences: Birch, Aspen, Chestnut – result: Evergreen
Jan 12, 2021: Announcement "we will be providing shipping estimates within the next week to the backers within the original crowdfunding campaign (orders through October 2017)" – which didn't happen
Jan 24, 2021: When I asked about the above, reply was: "expect to publish this update this week" – which didn't happen
Feb 2, 2021: "You should receive that email today." – which didn't happen
Sep 8, 2021: Email announcement; "We will send a separate email later in September to each of you with a firm delivery date for your Librem 5 order." – which didn't happen
Oct 5, 2021: Reply to another inquiry: "hope that we can reach your order in the next two months." – which didn't happen
Nov 8, 2021: Webshop shows: "1st Quarter 2022" (spoiler: it happened)
Jan 20, 2022: I asked what is meant by "our estimated shipping times are more accurate than ever"?
Jan 20, 2022: Reply was a request to confirm shipping address, address confirmed, modem selection the same day.
Jan 27, 2022: Notification "ready for shipping" and tracking number received.
Jan 31, 2022: Delivered by DHL (Germany)
Jan 31, 2022: Phone: "Enter disk decryption passphrase", Quick Start Guide: "0x20".
Well must say that is good news. My order was Dec 2017 and my order details are saying "Librem 5 - 1st Quarter 2022" so maybe it will arrive before mid-year

Oh dear, I backed on Oct 20, 2017. I haven't heard anything. My order in the web shop says: "Estimated Shipping Date: Librem 5 - please contact support for information". I did that a while ago, but never got a reply. How disappointing.
Have you checked your spam folder?

Yes of course, I check it from time-to-time anyway even if I am not expecting anything.
I'd definitely try again now. Might be just an oversight.
Thanks for the data point @stephan. Given that one, we have moved forward quite a bit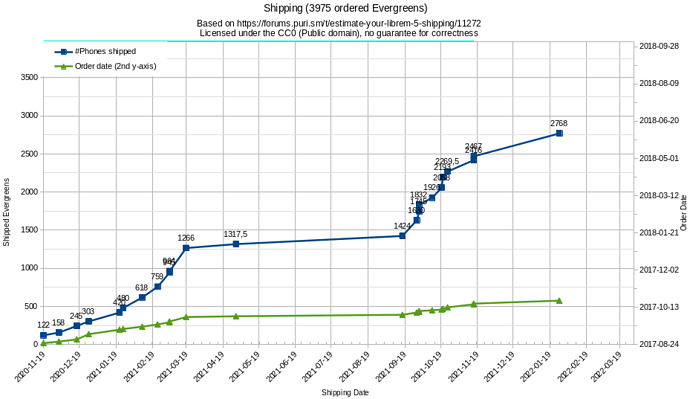 UPDATE: I have now removed the "trend line", people were taking it way too serious.
Out of curiosity, did you have to pay import duties/VAT/…? What was the shipping experience like?
I was charged EUSt of EUR 100.71 plus "Duty Tax Receiver Service (L1)" of EUR 14.88. Payment was handled online via DHL as the parcel was traveling.
Fine, I could track the progress in standard DHL online tracking. I selected a 4h delivery window, and the parcel arrived at my door well within that window. Just don't expect to be asked to sign a receipt, not during the pandemic

Please try again - I know that there were some orders that were accidentally skipped around that date (although I thought this was already resolved); this may also mean that there was no reply for shipping address confirmation e-mail. Maybe there's some issue with e-mail delivery between your server and Purism's?
/cc @joao.azevedo
@joao.azevedo and I have exchanged some PMs, and tried (and failed) to establish two-way communication by e-mail. I sent an e-mail to him which he received, but for some reason his reply never arrived, although I have received other communications from the Purism store at the same e-mail address.
I will e-mail Purism support again with a choice of contact options. Hopefully someone at Purism will pick this up and be prepared to work with me to resolve the issue.
And I replied to the email you sent me, did you not received my message?
No, unfortunately not (although many thanks for trying). An e-mail related problem would explain why I never got the address/modem confirmation e-mail, although I have received other e-mails from the Web shop to the same address. Anyway, I have e-mailed support now with some other contact options, so I hope that the issue will get resolved soon.