How does it fit on the L5 screen? Please, post some screenshots
Ha that would be good. Still eagerly waiting for my L5 (My order is from August 2018, so maybe X-mas).
OT Spyder probably not a good fit for L5 screen, needs convergence monitor. What I meant is that Spyder is an excellent Python EDI for Linux systems (and free).
I use Thonny on rsbpi's only for hacking corrections.
In web apps, the Desmos graphing calculator feels as though it was made for this phone. It works much better in portrait than landscape though. (In landscape mode, Desmos' built in keyboard covers the entire browser window, so you can't really see what you're doing.)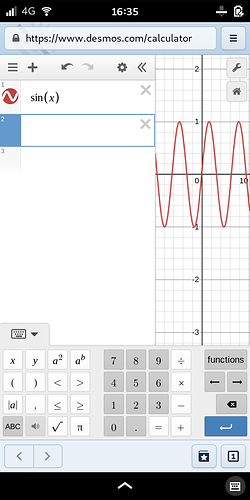 Just wanted to mention here that today I tried a couple of screen recorder flatpaks - Blue Recorder and Peek. They "sort of" work, in that they start/record/stop and then save a video file, but the file plays back as a totally black screen with no video. Also, the UIs are not totally usable. Anybody have suggestions for other screen recorders to try?
OpenTodoList (flatpak):

Dark mode…and
custom scaling
, although this app already adapts nicely to the L5's screen:
This is a great app with a lot of intuitive functionality and it works flawlessly right out of the box.
Looks good. Does it allow you to set reminders and notify when the due date approaches?
I think it does, but I haven't tested that yet. If you check the short video on their website, you can see reminders can be set for varying intervals: https://opentodolist.rpdev.net/
I don't see a way to set a time-of-day reminder for any ToDo item, but then that particular functionality is available in the L5's Clock app.
Edit: Also, there might be more options if you sync your ToDos to an online account.
Most screen-recording software is still only working with X, and we need one that works with wlroots-based wayland compositors here. wf-recorder (it's packaged in Byzantium, don't know about Amber) would do it, it does not have a GUI though. The Mobian Wiki has a fun yad GUI script for that purpose though.
PS: Thanks for testing OpenTodoList, I've added it to LINMOBapps since!
Thanks, Peter! That explains it.
Kali comes with a screen recorder ready to use out of the box. The only thing I read is that the record duration was limited but the limit could be extended or abolished by configuration. I don't know the name but here people talk about it.
Confy (flatpak):
Browse conference schedules; talks by day, track, or room; receive notifications just before start.

Fully scrollable:
Seems to be fully functional, with an occasional dialog box not centering properly (easily fixable by turning the screen once).
FWIW confy is packaged in byzantium, and was supposed to be in amber-phone as well since a few weeks ago, but apparently nobody noticed that the build has failed there

I just pushed a fix, so amber-phone should receive it soon as well.
This may seem pointless after all this time, but since I couldn't find confirmation: has anyone yet installed Doom on L5? I think it's a requirement…

ps. Gameplay videos plz and thnx!



Free42, an HP-42S calculator simulator, seems to be fully functional and fits on the Pinephone's screen. It could use a patch to scale the UI up to use the entire screen, but works and fits as-is.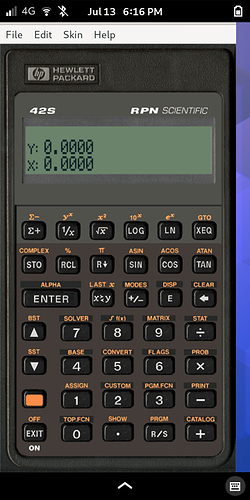 Kasts is a flatpak podcast subscribing and listening app
https://flathub.org/apps/details/org.kde.kasts
Some of the Setting text is truncated in portrait mode but does show up in landscape mode.

These are some subscriptions

These are episode lists

Kasts plays on the lockscreen (and also with the screen off)

So far Kasts works really well.
I'm unable to run it on the L5, it looks like it's designed for a different chipset:
-bash: ./free42bin: cannot execute binary file: Exec format error
I should have mentioned, you have to recompile it. It's built for x86_64 by default.
Metronome (flatpak; designed by Purism's Adrien Plazas, Lead GTK dev):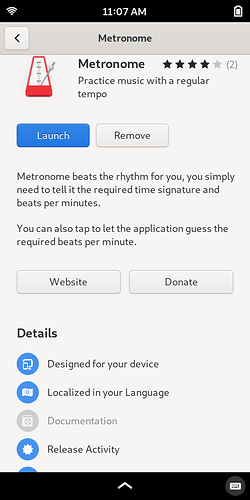 Note the "Designed for your device" label!

Set various (simple) time signatures and beats per minute; plays a pleasant clip-clop sound: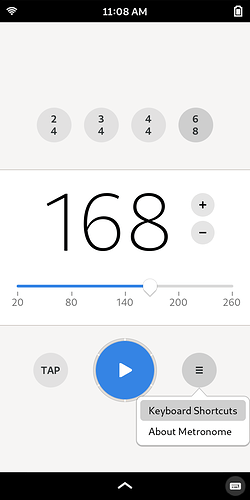 This dialog box for Keyboard Shortcuts is too wide for the screen until you scale down to 1.5x, but no biggie: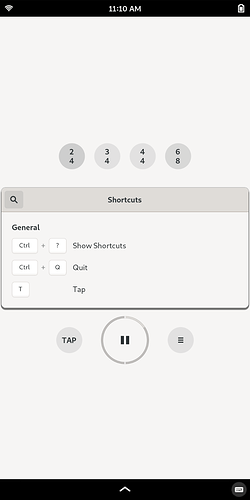 Nice work, @adrien.plazas …Thanks!
Mousai (flatpak; "Designed for your device"):

This is an app similar to Shazam (commercial) and SongRec (flatpak, see test run, up thread), which can recognize the audio of songs.
Song recognition is hit or miss, with some well-known songs being recognized, while other well-knowns (as in popular, historical FM radio songs) are not. Example: Peter Gabriel's Sledgehammer:

More obscure songs don't seem to get matched, either.
That might have to do with this info, from the app description:
"Note: This uses the API of audd.io, so it is necessary to log in to their site to get more trials."
and it looks like it's not for free. From the audd.io website: