UPDATE Jun 18: source link and comparison image with the last changes.
Since I'm using the command line frequently, I wanted to add some useful keys (Tab, '-', '.' ,'/') to the base/main view of the terminal layout. As that was easy, I ended up with a lot of other changes in all the views. This applies to the English (United States) terminal layout from Squeekboard version 1.14.0 (I haven't tested others). This post describes the results.
Here are a few things that explains my choices:
I'm not familiar with Android or IOS keyboards. The PinePhone is my first and only smartphone (I have a L5 pre-order on sale).
I'm a vim user (and with :inoremap jk <Esc> – when I type jk I get an Esc)
I prefer to use 'for terminal' applications, like: vim, cmus, mutt, mc, feh, mpv, w3m, …
I've moved important keys from the lower corners (harder to access there)
Other things worth mentioning to avoid confusion:
'>_' was relabeled to 'Fx' – it's the button to display the Fxunctions keys/actions view
main view lacks a preferences button (replaced by the symbols button - more useful). However it's available from other views.
The Shift key I introduced into the action view (Fx) doesn't do anything yet (no effect on the other keys there).
Ctrl, Alt are still sticky. I think that requires code changes. Later, I'll probably look into it. That stickness is bad for my needs.
I've only changed the terminal layout and only for the portrait mode. More, for later, I guess.
This layout allows me to be significantly more efficient in my typing. With time, I'll probably add more changes especially to the symbols view which I lightly changed so far.
Installation:
Only one file is needed, a text file called us.yaml. It's available for 1 year here:
https://textuploader.com/tsbxy

Copy the us.yaml file into the directory below that you can create with:
$ mkdir -p ~/.local/share/squeekboard/keyboards/terminal/
To activate it, using the squeekboard, press the preferences button (left low corner) and choose a different option there to trigger a reload.
Remove/rename the us.yaml to get back the original layout (after you trigger again the squeekboard for reload).
And here is a visual Before-After comparision of the changes: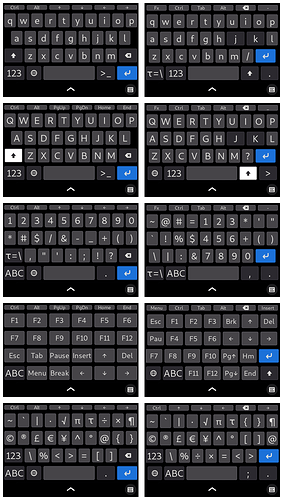 Thanks
to all the contributors and maintainers!
@dcz